"Why...why...why?"
— Dan before being hit in the nuts
This was a minor stunt that appeared in the first series of Dirty Sanchez and only involved two Sanchez boys.
Recipe for disaster
Edit
Cracked eggs
Edit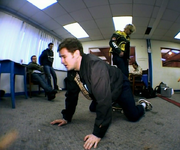 Dan Joyce unwittingly was on all fours while a skateboard was placed under him, between the legs. Pritchard jumped on the one side of the skateboard causing it to tilt and hit Dan in the testicles.
Aftermath
Edit
Dan was obviously in a lot of pain as every male on the planet will know why.

Ad blocker interference detected!
Wikia is a free-to-use site that makes money from advertising. We have a modified experience for viewers using ad blockers

Wikia is not accessible if you've made further modifications. Remove the custom ad blocker rule(s) and the page will load as expected.