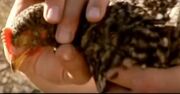 "Derek's his name. Derek the chicken"
— Pritchard in mourning
 Derek the Chicken was a chicken that the Sanchez boys had to kill in
the movie
 in order to survive in the desert. It was one of the creatures killed in the
Come to Jesus time
stunt.
Before the killing the Sanchez boys had to kill and eat a scorpion and a Tarantula. Their next bit of food was "Kentucky fried chicken" which features a chicken from Kentucky and the boys had to fry it. The boys had to eat the chicken in order to survive the desert but all four of them were reluctant to kill the chicken.
"If I can't kill it! I won't eat it!"
— Pritchard
Dainton
 was the only one who would murder the chicken. Dainton tried putting it out of it's misery the painless way by holding it's next and soffocating it. Dainton then snapped its neck and threw it to the ground. Afterwards the chicken was cooked and eaten.
Controversy
Edit
This scene in particular caused some controversy as many percived it as borderline animal abuse. The excuse was that the Sanchez boys would starve in the desert if they didn't kill and eat the chicken.
Gallery of chickens
Edit
Ad blocker interference detected!
Wikia is a free-to-use site that makes money from advertising. We have a modified experience for viewers using ad blockers

Wikia is not accessible if you've made further modifications. Remove the custom ad blocker rule(s) and the page will load as expected.