Flamenco



What's above...

Information
Style
Crushing
Participants
Pancho

Dancers

First Appearance
Spain
Last Appearance
Spain
This was a minor stunt from the third series of Dirty Sanchez. It only involves one Sanchez member but involves ordinary people as well.
Recipe for disaster
Edit
Back
Weight of a person
Dance fever
Ah! Ah! Ah! Staying alive!
Edit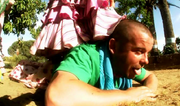 Pancho was laying on the hard ground facing downwards. A female Spanish stood on top of him and started to "flamenco" on top of his back. She tapped her shoes and stomped all over Pancho's back. She got off after a few seconds.
Aftermath
Edit
Pancho had a sore back but nothing severe.

Ad blocker interference detected!
Wikia is a free-to-use site that makes money from advertising. We have a modified experience for viewers using ad blockers

Wikia is not accessible if you've made further modifications. Remove the custom ad blocker rule(s) and the page will load as expected.