"Giving out the sort of careers advice only a bunch of masochistic psychos can give"
— Nuts
Series two of Dirty Sanchez called Jobs for the boyos. Once again featuring the Sanchez crew, this time the boys have to go out and work at some jobs.
The Sanchez crew work for some job for a week, while the week passes they commit stunts and pranks towards eachother on the work site. Each week the boys would work in different careers such as Building or Royal Marines. It takes the same format of interviewing the Sanchez crew and the work colleagues but this time there are no family or friend interviews.
Episode guide
Edit
Reception
Edit
Unlike before this series got very positive reviews. This series became a huge hit resulting in the show becoming the biggest hit in MTV UK history and is still the only MTV UK series to be broadcast in the United States.
DVD release
Edit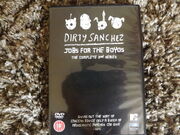 Like the rest of the series it was given a DVD release featuring every episode. It included a Photo gallery, hidden content of the Director and other staff member being given a stunt to welcome them to Dirty Sanchez and lastly Unseen footage exclusive to the DVD only.
This was the only Series shown in America.
Ad blocker interference detected!
Wikia is a free-to-use site that makes money from advertising. We have a modified experience for viewers using ad blockers

Wikia is not accessible if you've made further modifications. Remove the custom ad blocker rule(s) and the page will load as expected.