Lee Dainton

Personal details
Age
22 August 1973 (age 43)
Family
At least one daughter called Indie, one step daughter called "Gaby" and girlfriend/wife Amy
Nicknames
Daint, prick, Dainton the dick



Lee Dainton is is a professional skateboarder, daredevil and one quarter of the Dirty Sanchez crew. Dainton is often seen as the leader of the group often leading the crew into the Stunts they do and retreating when the stunt has gone too far. His stunts are often the piercing/cutting ones.
Early life
Edit
When he was a baby his father, while playing with him, accidentally threw him over his shoulder resulting in Dainton hitting his head quite hard. Jokingly Dainton says it may be the reason why he is so "fucked up".
During his school years Dainto was often bullied, at one point a gang of bullies chased him home where he was told to go back out there to face them, he beaten up badly. Not much is known about how well Dainton did in school other than that.
He picked up a fond connection with skateboarding where he met Pritchard later on the line he then met Pancho and Dan Joyce. From this point on they became friends and started doing stunts. He use to work for D.I.Y
Dirty Sanchez
Edit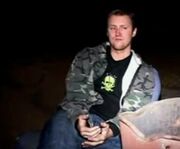 Dirty Sanchez first aired in 2003, this was where Dainton was able to shine. Dainton never change over the course of the series. He never loses his cool most of the time, however has gotten angry when he has been attacked for no reason by Pritchard or something homosexual happens near or with him. He often does the "dark and macabre stunts.
In Series one it is revealed that Dainton often causes most of the trouble, leading his friends into danger or harms way. Dainton also reveals that he has OCD though strangley itis never seen.
In Series two Dainton was shown as the only person out of all the Sanchez crew to be able to work properly, praised in almost all the episodes for hard work.
Series three saw the worse from Dainton. Throughout the series he tortures and torments his other colleagues, mainly Pritchard. Interestingly he never bothers Johnny B whereas the other Sanchez did at least once. Dainton out of all the Sanchez at the end of the series was the most calm and the one to have been "fucked with" the least.
Relationships with the other Sanchez
Edit
Matthew Pritchard
Edit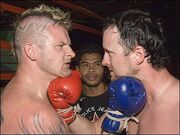 Matthew and Lee have been best friends for a long time according to family members and the two themselves. Despite this the two have been in a long
Rivalry
with each other.
In series one and two they were neutral to each other and rarely did they seriously harm one another however as Series three came things got ugly.
" Don't fuck around with spiders!Don't Fuck with my passport! Don't with electricity! Cause I'll FUCK YOU UP!"
— Pritchard after pepper spraying Dainton
Throughout the third series Dainton ,non stop, kept attacking Pritchard with pranks, for example he had stolen his passport and changed it, he terrorised Pritchard with Spiders and even went as far to shave his hair. This continued to the movie where Dainton faked a world record to purposely anger Pritcard. Despite this they're still good friends.
Dainton picks on Pancho for his size and clumsiness. Dainton will, just like Pritchard and spidrs, exploit his fears of height. Dainton is often the cause of most of Pancho's wake up pranks mainly in shaving his head.
Dan Joyce
Edit
Lee Dainton is friends with Dan Joyce but has shown a dislike to Dan's personality for example he accused Dan of not being able to take a joke. Dainton and Dan never seem to mess with each other sometimes sparking the two to team up on Pritchard or Pancho. Dainton has shown concern when ever Dan does one of his Disgusting stunts telling him not to do it but like the other doesn't stop encouraging it.
After Dirty Sanchez
Edit
Dainton runs his own skateboarding team known as Kill City. The team feature in his weekly video blog called 'Sunday Stooges' (via YouTube) along with other videos he records, edits and produces. In late December 2009 early January 2010, Dainton released the official Kill City tour video titled 'Hobo Code' which was a free download via his Myspace account.
He also tours with Pritchard for their 'Pritchard vs Dainton' show which is similar to the Dirty Sanchez live stage show. Dainton and Pritchard are the only members that still perform stunts.
External Links
Edit
https://www.facebook.com/leedainton
https://www.youtube.com/user/daint66/featured
https://instagram.com/dainton_lee/
https://myspace.com/dainton/photos
Ad blocker interference detected!
Wikia is a free-to-use site that makes money from advertising. We have a modified experience for viewers using ad blockers

Wikia is not accessible if you've made further modifications. Remove the custom ad blocker rule(s) and the page will load as expected.