Pillar



From this moment, Pritchard knew he was fucked

Information
Style
Impact/fall
Participants
Matthew Pritchard
First Appearance
Careers
Last Appearance
Careers
This was an unseen stunt that briefly appeared in the one episode of Dirty Sanchez.
Recipe for disaster
Edit
Always wear a safety helmet
Edit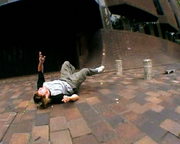 Pritchard purposefully skated his way towards a concrete pillar. He whacked into it which sent him flying onto the ground. He slammed the ground very hard.
Ad blocker interference detected!
Wikia is a free-to-use site that makes money from advertising. We have a modified experience for viewers using ad blockers

Wikia is not accessible if you've made further modifications. Remove the custom ad blocker rule(s) and the page will load as expected.