Piranha teeth
Information
Style
Piercing
Participants
Matthew Pritchard

First Appearance
Brazil
Last Appearance
Brazil
"The loser must scrape with the piranha teeth...his balls"
— Brazilian wrestler
This is a stunt from the spin off series Sanchez Get High and features only one of the two Sanchez boys.
Recipe for disaster
Edit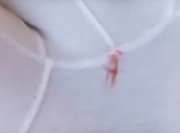 Before this particular stunt, the boys were involved in a fight where the fighters scar themselves with the teeth of piranhas if they lose the fight. Dainton had the idea to scar Pritchard as he lost his fight. Pritchard got in position while Dainton jabbed Pritchard in the gooch with the piranha teeth.
Aftermath
Edit
The sharpness of the teeth caused Pritchard to bleed quite a bit from the gooch.
Ad blocker interference detected!
Wikia is a free-to-use site that makes money from advertising. We have a modified experience for viewers using ad blockers

Wikia is not accessible if you've made further modifications. Remove the custom ad blocker rule(s) and the page will load as expected.