This is an unseen stunt that briefly appeared in one episode of Dirty Sanchez.
Recipe for disaster
Edit
Toy tractor
Idiot
Skip
Hay
Little tractor
Edit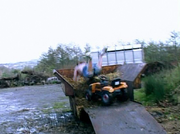 Pritchard had the simple goal of driving a children's tractor down a road into a skip full of hay. Pritchard did so with some difficulty, he had some trouble controlling the toy tractor but was able to get to the end, where he tipped face first into the hay.
Ad blocker interference detected!
Wikia is a free-to-use site that makes money from advertising. We have a modified experience for viewers using ad blockers

Wikia is not accessible if you've made further modifications. Remove the custom ad blocker rule(s) and the page will load as expected.