Window head
Information
Style
Impact
Participants
Matthew Pritchard

Unknown person

First Appearance
Careers
Last Appearance
Careers
This is an unseen stunt that made a brief appearance in one episode of Dirty Sanchez.
Recipe for disaster
Edit
Breaking in
Edit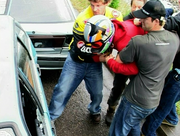 The boys once again pick on Pancho. All four of them and a friend decided to lift Pancho up and shove his head through a car window, which caused it to shatter immediately. No one got hurt.
Ad blocker interference detected!
Wikia is a free-to-use site that makes money from advertising. We have a modified experience for viewers using ad blockers

Wikia is not accessible if you've made further modifications. Remove the custom ad blocker rule(s) and the page will load as expected.